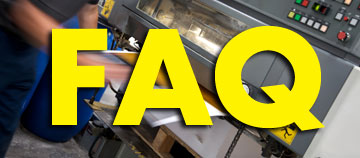 Here you'll find answers to common questions our clients ask. If you don't see what you need – send us an email at team@printjax.com.
What does it mean when we request that you supply a "Print Ready" file?

Years ago, printers would refer to this as "camera ready" All the layout would be complete and printed out and ready for the print shop to take a picture of your art with their camera and then develop film. With the digital age, the majority of printers no longer use cameras and develop film manually. We now request that you supply a 'print ready" file. This means that we are you to supply a high resolution PDF file of the document you wish to print. If you're not sure how to accomplish this we'll be glad to walk you through the steps. Just give us a call.

At what resolution should I save my photos and graphics?

Resolution should be set to 300 dpi.

Pictures and graphics pulled from the internet are often low resolution, typically 72 dpi or 96 dpi. Avoid these graphics, as they will appear pixilated and blocky when printed.

Also note that you should save all photos in CMYK mode, not RGB mode when possible. Images saved in RGB mode may not print properly. If you are unable to save your image in CYMK mode, please let us know.

Can I send a file to you through email?

Sometimes. It really depends on the type of file. It's no problem if your sending a MS Word file or an MS Excel file. Those files types are generally small. If you're sending us a design file or PDF that is less than 8 MB, then email works just fine. Email does not work good for sending fonts.

For larger files and fonts, go to our home page and click on "send a file". You will be able to select the file and send it to us via our FTP site.

If you have multiple files you'll want to download and use a compression application such as stuffit or Winzip.

Can you accept PDF files?

Yes. We like PDF files. The unfortunate aspect of PDF files is that they cannot be edited. We do have an Acrobat utility called "Pitstop" that allows us to make minor revisions. If major changes are needed, we will ask for you to send us a new file.

The great aspect about PDF files is that you do not have to send fonts and art. Once you learn how to make "print ready" PDF's you'll love them as much as we do.

Can you accept files from a PC?

Yes. We can accept any file from your PC. The most common files are MS Word, MS Excel, MS Powerpoint, MS Publisher. Many times we can print from the files you send us. In some cases we may have to make some modifications in order for the file to print correctly.

How do I go about getting an estimate from you?

Well, since you are here, we would suggest you use our online estimate request form. Otherwise, the best way to ensure that we get all the information necessary to do an accurate quote is to give us a call and talk with one of our customer service representatives.

How long does it take for you to complete my order?

Each job has it's own unique details and manufacturing processes. Depending upon what process is required will determine the length of time needed to complete the project. We will evaluate each project and match it with the best resources in order to maximize the production process. It is important that you communicate any deadlines early in planning phase.

Is white considered a printing color?

Not typically. Because white is the default color of paper, it is simply recognized as the absence of any ink. However, when using colored paper, white ink may be used if any text or graphic requires it.

Tips on how to save your design files

Make them print ready and acceptable for us to print.

COREL DRAW:
Saving your Corel Draw file as an Adobe Illustrator EPS
• Embed all Images
• Convert all your text/copy to outline fonts
• Export as Illustrator EPS

FREEHAND:
• Embed all Images
• Convert all your text/copy to paths
• Export as Illustrator EPS or PDF

PAGEMAKER:
Saving your PageMaker file as an EPS
• Embed all Images
• Convert all your text/copy to outline fonts
• Export your file as an EPS using the below settings:
Postscript Level 2
CMYK Mode
TIFF format and
Binary

PUBLISHER:
You will need to have the full version of Adobe Acrobat PDF. If you don't please download and use our Adobe Job Ready Program. If you do have the full version of Adobe Acrobat PDF please follow the steps below.
Under File, Print, select Adobe PDF writer
Under Properties select Press Quality and Save your PDF

What do I need to supply with my design files?

If you're using QuarkXpress or InDesign, you need to supply the following:
- Quark or InDesign, file
- All fonts
- All supporting art (tiffs, jpegs, eps files)

What file format should I use when submitting my electronic document for printing?

PDF (Portable Document Format) is the most common and preferred file format for submitting digital documents. With the installation of a PDF print driver on your computer, virtually any program can generate a PDF file suitable for printing. Both commercial and free PDF print drivers are available online for download from different sources.

What is a proof and why is it important that I look at it?

In printing terms, a proof is a one-off copy of your document after all modifications and printing setup processes have been completed. It is your last and best opportunity to make sure that the print job comes out the way you want. By carefully inspecting the proof, you can help us assure an accurate, flawless delivery of your print job on the first run.

What is a press check and why is it important?

A press check is when you come to our print shop and review a printed sample press sheet after printing plates have been made and the printing press has been set up with your project. This is the most accurate form of proofing but it can be expensive especially if you find a problem and have to ask us the stop your project.

Why would you want to go to this extent especially after you reviewed and approved a color proof from our pre-press department? In the last two weeks we have had two different projects where the color proof, while being accurate, did not show a problem that was going to occur once we applied ink to the paper stock. With all the best of technology, our accurate ink jet proofs may not replicate everything that will happen once the press ink is applied to paper. It was a good thing that both projects had press checks scheduled or we may have not recognized the problem until after the entire project was complete. Don't under estimate the value of taking time out of your busy schedule to take one last look at your project before it prints. It's well worth the time and possibly a little extra money to avoid a colossal mistake.

What is the Pantone Matching System?

The Pantone Matching System (PMS) is a color reproduction standard in which colors all across the spectrum are each identified by a unique, independent number. The use of PMS allows us to precisely match colors and maintain color consistency throughout the printing process.

What type of products and services do you provide?

Good question! We are a full service shop and offer a wide range of products and services. To see a full listing and description of what we can offer you, check out the Products & Services area in the Customer Service Section of our website.

Why do the printed colors look different from the colors on my screen?

In short, printers and monitors produce colors in different ways.

Monitors use the RGB (red, green, blue) color model, which usually supports a wider spectrum of colors. Printers use the CMYK (cyan, magenta, yellow, black) color model, which can reproduce most—but not all—of the colors in the RGB color model. Depending on the equipment used, CMYK generally matches 85–90% of the colors in the RGB model.

When a color is selected from the RGB model that is out of the range of the CMYK model, the application chooses what it thinks is the closest color that will match. Programs like Adobe Photoshop will allow you to choose which color will be replaced. Others may not.

What Quantity Level Should I Consider Using Bulk Mail Postage for My Direct Mail Project?

Typically, your break-even point is around 1000 in quantity. Yes you will save money on postage costs with less than 1000 pieces but the cost associated with presorting and addressing your project will use up the savings accumulated on postage.

Is There a Standard Press Sheet Size?

There are standard sizes but determining which one to use will be based on what type of item is being printed (ie. brochure, business card, magazine) and quantity being printed.

Here's some basic press sheet dimensions to consider.

Quarter size press
13" x 19"

Half size press
17.5" x 23"
19" x 25"
20" x 26"

Full size press
23" x 35"
24" x 36"
25" x 38"
26" x 40"

Where Can I get an ISBN Barcode?
What Stocks and coatings are available for Paper Board Boxes?

Paper Board Boxes are available on durable 14 PT Uncoated with with No Coating and on 18 PT C1S stock with coating options of No Coating, UV Coating, Front Only or Spot UV, Front Only.

**UV Coating, Front Only is not available for boxes that have glue, including the wine box and the Sales Presentation Box.